---
The Eastern Screech
Volume 1, Issue 2 Nautchaug Ornithological Society's Newsletter October 2000
---
THE MAKING OF A FIELD GUIDE – DAVID SIBLEY
You Won't Have To Wait Much Longer…
By Chris Elphick
We are very excited to present the author of what may become known as the definitive field guide to birds: National Audubon Society's Field Guide to the Birds of North America. Having grown up in Guilford, it is only fitting that David return here to introduce this monumental work. The book is a result of a life long study of birds by an artist whom many believe is the successor to the late Roger Tory Peterson. Books will be made available that night by The Audubon Shop for 10% off the cover price. An additional 5% will be donated to the Menunkatuck Audubon Society, so it'll be a great opportunity for holiday gifts! Due to the large anticipated crowd, Mr. Sibley will be available to sign books 1 hour before his 7:30 slide presentation. Free refreshments will be served from 6:30-7:30. This special event will surely be SRO, so come early to ensure a seat!
Last Tuesday, September 26th, the NY Times -- Science section ran a glowing review of the NATIONAL AUDUBON SOCIETY SIBLEY GUIDE TO BIRDS as well as a profile of author/illustrator David Sibley--with author photo and illustrations from the book shown. According to the writer, Vernon Laux, the article said that "David Sibley has raised the bar for guidebooks everywhere" and "everyone in the country should have a copy of this book!" They also mentioned that it goes on sale "next month"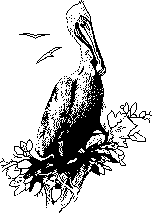 CAPE MAY IN A DAY
Yes, One Day…
By Douglas Hume
Sarah and I decided to run down to Cape May, New Jersey and see what birds were coming through on their South migration. We left Storrs at seven pm on Friday night. We drove towards Cape May. The directions that we got of the internet left a lot to be desired. We first ended up going towards Pennsylvania rather than New Jersey. We then missed one of the off ramps while on the New Jersey Turnpike and ended up in Delaware. I then threw away the map and went by my own sense of direction. We headed back up to Philadelphia and attempted three different times to get on the bridge from Philadelphia to New Jersey before we succeeded. I then found the road to Atlantic City and followed it attempting to find the Garden State Parkway. Since I had been driving for so long and did not see it, I just headed South. I finally spotted a sign for Cape May, New Jersey, at two in the morning. I followed the signs and finally ended up at the Cape May Nature Conservancy area at around three in the morning. Since nothing looked open, we crashed in the back of my truck to be awoken at
continued on next page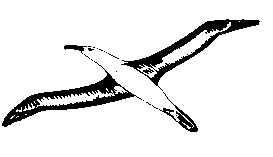 continued from page one
six thirty by birds singing. We had luckily found a great place to bird! We asked around and found out where the hawk count was going on and then went there for several hours. It was quite a sight to see so many birders of all levels looking for migratory birds. There were many Osprey and Sharp Shinned Hawks. We also spotted a beautiful Brown Pelican, which made Sarah feel like she was back in California. We saw a total of 45 species on the day. At around eleven am we were both tired (me more than Sarah as she was able to nap on the drive down), so we headed home. When we finally got home around at around six on Saturday, we both had quite a laugh… who else would drive for fourteen hours to bird for six hours? I'm thinking that next time I'm going to get a hotel room!
List of raptor species seen on our trip:
4 Coopers Hawk 12 Sharp Shinned Hawk
2 Broad Winged Hawk 16 Osprey
2 Merlin 1 Northern Harrier
4 American Kestrel 25+ Turkey Vulture *
HOT BIRDS
Here and There
By Sarah Hume
Chris (Elphick) had a Golden-winged warbler in the Eagleville Preserve off Rte 275. The bird was moving around in the woodlands just past the power cut with a flock of chickadees. In Lot W on the 25th, a Lincoln Sparrow was spotted.
With migration occurring, expect the unexpected seems to be an appropriate motto for the birder. Bluff point has produced a possible Gray Cheeked Thrush and a Connecticut Warbler on the 22nd. Not to be outdone, a Western Kingbird has been spotted at Lighthouse Point in New Haven on September 27th.
According to the Delaware RBA. "A common crane, in the company of 3 sandhill cranes and one juvenal, have been frequenting the area of northern Cumberland Co., north of Bridgeton. Massachusettes' RBA reports that a Northern Wheatear was found in Longmeadow at the Longmeadow Sandbar.
The hawk migration is just a little past peak now. Nevertheless, things are still moving. In New Jersey, a Mississippi Kite was seen at Merrill Creek on the 22nd of September.
The first signs of winter are being reported in Vermont. The cold fronts have been bringing down White Winged Scoters, Brant, Common Loon and even a juvenile Sabine's Gull
UPCOMING EVENTS
By Sarah Hume
Talks
NOS's meeting is at 7:30 on October 6th. Jeffrey Feldman will do a presentation titled "Views of nature, from Connecticut's waterways, with a special visit to Pine Acre's Lake". Steve Morytko will be providing refreshments.
Field Trips
Bruce will lead a local trip on October 15th. Half-day trip, finished by 1 pm. Meet at the Lot W parking lot at 7 am. He will go to Lot W, Horsebarn Hill, Pumping Station, Pleasant Valley Road and other locations as time allows.
There will be a trip to Plum Island led by Chris Elphick in November.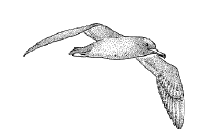 A REQUEST FOR FUNDS
A student in search of funds
By Doug Hume
The following letter is making the rounds among several people and organizations in the area. It is included here for information.
Dear Sir,
I am currently a student at the University of Connecticut. I am fortunate enough to be able to do research at the Wildlife Conservation and Research Center located at the Storrs campus. Under the guidance of the director of the center I have been able to work on various projects involving greater and lesser scaup. We have been selected to present a poster at the Second North American Duck Symposium in Saskatoon next month. Currently we do not have the funds available for the cost of travel and we were wondering if you have any funds available or if you have any suggestions as to where to get this funding. We need approximately $1000.00 to cover the cost of the plane ticket and food and lodging for 2 or possible 3 individuals including myself, Christopher Renshaw (UCONN student who also works at the center), and Dr. Jack Barclay (Director of the Center).
Any information and guidance you could provide would be very helpful.
Sincerely,
Patricia S. Hollay
Wildlife Conservation and Research Center
University of Connecticut
Department of Natural Resources
1376 Storrs Rd., U-87
Storrs, CT 06269
ph: (860)486-1319
fax:(860)486-5875
FALL FIELD DAY
A raptorious day
By Sarah Hume
Early morning on the 23rd, Larry and Judy Marcus, Sam Higgins and myself sojourned down to COA's Fall Field Day. We ran a little late and so met up with the group at Sandy Point. Though we didn't see anything in great number, we did get to see a good number of species. What was interesting was that I think I saw more Sharp-tailed Sparrows that day than I had for the rest of my life put together. We started birding at around 8:15. it was cloudy and about 50 degrees. After spending a couple hours birding there, we finally registered at the Lighthouse where we avoided bees and watched the Osprey and a few other raptors on their migration. We hooked up with Steve Broker and his group and went to two local places. Though they weren't extremely birdy we got to have a great discussion on the finer points of raptor identification. After we broke away from the group, it was decided that the lunches we had brought did not sound as appetizing as they did at 6 o'clock in the morning. We stopped off for some great food and dessert that was even hotter than the main course. Afterwords, we stopped off at West Rock where we were able to get the elusive Black-capped Chickadee and Tufted Titmouse. Once it began to rain, we headed home late in the afternoon.
Double-crested Cormorant Great Blue Heron
Great Egret Snowy Egret
Mute Swan Canada Goose
Wood Duck Green-winged Teal
American Black Duck Mallard
Blue-winged Teal Turkey Vulture
Osprey Northern Harrier
Sharp-shinned Hawk Cooper's Hawk
American Kestrel Peregrine Falcon
Sora Black-bellied Plover
Killdeer Semipalmated Sandpiper
Sanderling Ring-billed Gull
Herring Gulll Great Black-backed Gull
Laughing Gull Common Tern
Foresters Tern Rock Dove
Mourning Dove Belted Kingfisher
Norther Flicker Blue Jay
American Crow Black-capped Chickadee
Tufted Titmouse Marsh Wren
continued on next page
continued from pag three
American Robin Gray Catbird
Northern Mockingbird Cedar Waxwing
European Starling Palm Warbler
Common Yellowthroat Saltmarsh Sharp-tld Spw
Savannah Sparrow House Sparrow
Monk Parakeet
MISCELLANEOUS ANNOUNCEMENTS
Stuff to do when you have some extra time
By Doug Hume
Below are several birding related items with which you may wish to be involved:
Bird Walk at Bafflin Sanctuary
Saturday, October 7 at 7:00 AM
Monday, October 9 at 7:00 AM
"Connecticut Audubon Society, 1 mile, 2 hour slow walk through the Society's Bafflin Sanctuary. Search for hawks, ducks and migrating songbirds with land manager Andy Rzeznikiewicz. Suitable for older, interested children. Bring binoculars, wear comfortable shoes. Donations appreciated. Meet at Bafflin Sactuary. From jct. of Rts. 169 and 101, go north on Rt. 169 for 0.6 miles; take 1st right onto Day Rd. Go 1.1 miles to T stop. Turn right to Bafflin Sactuary at 220 Day Rd., Pomfret, CT."
Bird Walk at Manfield Hollow State Park
Sunday, October 8 at 7:00 AM
"U.S. Army Corps of Engineers, 2 mile, 3 hour, bird watching walk along roads and trails in Mansfield Hollow State Park. Suitable for children ages 5 & up. Park and meet at Boat Ramp on Bassett's Bridge Rd., 1.5 mi. east from Rt. 195, Mansfield Center, CT."
A Day at Bafflin
Sunday, October 8 at 10:00 AM
The Connecticut Audubon Society invites you to "A Day at Bafflin." There will be guided walks, food, fund and song in Pomfret. Come for all or part of the day. Proceeds to support trail development and signage. It will cost you $10 for adults and $5 for children. Call (860) 928-4041 for more information.
IMPORTANT NEWS
Don't miss this…
By Sarah Hume
In November there will be a local Bird Day held in Storrs. We wish to have a booth there with members helping to pass out brochures and selling the book Birds of Storrs, Connecticut and Vicinity. We will have signup sheets at the October and November meetings. Please get involved as we need your help to promote not only NOS, but what we stand for as well.
Sam Higgins has accepted the role of trip organizer. Her experience and expertise will be an invaluable asset to our organization. I am sure that everyone joins me in thanking her for taking on this responsibility.