Natchaug Ornithological Society Information
---
Meetings and Events:
NOS meets monthly September through June on the first Friday of the month from 7-9:30pm at the Storrs Unitarian Fellowship Meetinghouse on Spring Hill Rd. in Storrs CT (directions). Meetings usually follow a loose agenda--a discussion of recent and upcoming events is followed by a presentation from a guest speaker.

Visit the NOS Event Calendar for information concerning meetings, field trips, counts, and other NOS activities.
Membership Information:
NOS is seeking to expand its membership. You are most welcome to attend a meeting before becoming a member. There is also an NOS Membership Form online that you may print and send by US mail.
Publications:
Birds of Storrs, Connecticut and Vicinity was first published by NOS in 1963 and was followed by a second edition in 1975. In December 1999 an excellent third edition containing updated text, new information, maps and artwork became available. Copies may be obtained at NOS meetings, the UConn Co-op, local town halls, and other sites. Copies of the 1963 and 1975 editions are available from the Mansfield Public Library. They all contain invaluable information about birds and birding in the Storrs CT area.

NOS also publishes a newsletter ten times a year to correspond with monthly meetings.
History:
The idea for a local bird club originated with a subgroup of the Storrs Women's Club. After a few years there was so much interest that a separate group, open to all, was formed. The first meeting was held June 26, 1956. Subsequent meetings resulted in the formation of the Natchaug Ornithological Society. Since its beginning, the Society has remained active in the local birding community, providing a venue for both novice and expert birders. In 1975 total membership was over 100. In recent years membership has held steady at about 80. The society has upheld throughout its existence a tradition of providing local birders with lively programs during its monthly meetings, numerous field trips to birding hot spots both local and distant, and opportunities to participate in censusing and research efforts through such activities as the May and Christmas counts and bird banding.
E-mail List:
NOS maintains an e-mail list for the purpose of disseminating information about upcoming events, bird sightings, questions and answers from other subscribers, and other birding related topics of interest. All interested parties may join the list.
Local Birding Hotspots:
There are many good places to find birds in the NOS area. Check our hotspots link for more information.
Christmas Bird Count (CBC) Census Data:
CBC's are held throughout North America in late December and early January. US and Canadian birders count all the wild birds observed within 15 mile diameter territories. CBC's are organized locally and follow a simple protocol. Census volunteers are assigned to designated areas within the local 15 mile territory where they count all wild birds on the designated count day. Data from each sub-area is compiled and sent to the National Audubon Society where results from all of North America have been collected since 1899. North American census data is published annually and offers researchers short and long term trends of individual species and of the census territories during past and current conditions.

NOS organizes the Storrs census for the territory displayed above. This area is subdivided into smaller territories that census participants search during Christmas, May, and June counts. Storrs circle CBC results from the 1956-57 count forward are online at the CBC website.

This data can be used to study trends and changes in resident and wintering avian populations in the Storrs area. For example, the Canada Goose population has increased dramatically over the last 20 years while American Kestrel is declining significantly as it has elsewhere in the Northeastern US. Other trends can be observed and with local knowledge of habitat changes and other factors, conclusions may be able to be drawn as to why species populations have increased, declined, or remain unchanged. One might consider the effect of past and new construction projects on specific and unique habitats in our area and predict how they impact specific species and local habitats. The construction of the Mansfield Hollow Dam certainly had a profound effect on local habitats. Today, water levels there often determine whether or not migrant waterfowl and shorebirds are present in this area. The gradual and continued loss of considerable farmland and grasslands is likely reflected in the data. CBC census data may provide local and regional planners with important information required to maintain and improve habitat for local and migrant wildlife.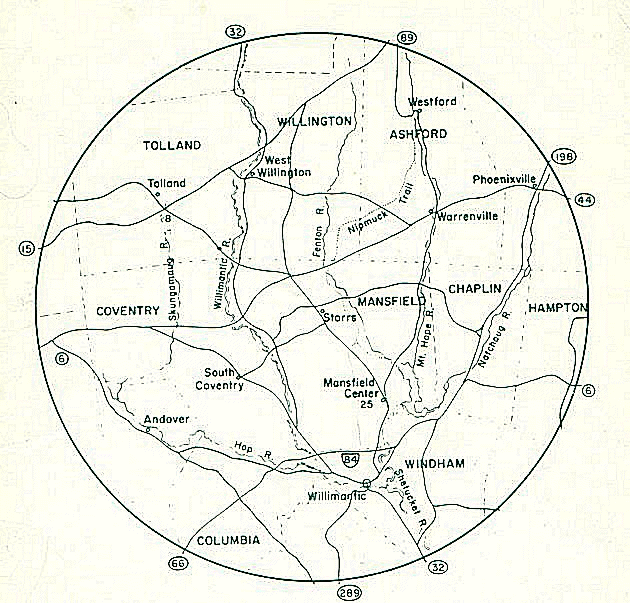 Other Related Local Sites: